So we are taking the Bean camping this summer.  This will be a new experience for us.  Unless you count that awful night in Maine when she was still in a pack and play and screamed so loud in our tent that every moose around the lake started stampeding and I got carsick on the aerobed. But now she's big and the Adirondacks are calling.
So how do you get your little girl interested in camping? There are some great camping toys out there for toddler and preschool girls.  Check them out.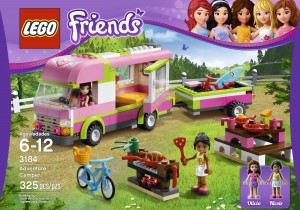 Look, I'm the first person to say that girls don't need pink legos.  But this is a cool set.  The Lego Friends Camper includes tons of accessories, cool details, and neat little dolls who apparently barbecue, surf and bicycle. Awesome.
The Ravensburger Camping Adventure Puzzle for kids ages 2 and up has been discontinued, but you can still find it online.  I love it.
Every girl's gotta have her own sleeping bag.  The Lightning Bug one pictured above is pretty cute.  There are also great options from my favs, Lands End and LL Bean.
And her own flashlight.  This Sunny Patch Mollie Flashlight from Melissa and Doug would be so cute for bedroom camp outs and the real thing!
The crown jewel in the camping toys for girls collection would have to be this absolutely adorable Calico Critters Caravan Family Camper.  Thanks to the lovely folks at Calico Critters we had a chance to review this toy and it's an absolute favorite in our house.  Just look at it!  Your family of little critters can go camping in a cozy retro camper with a million of the cutest tiny accessories from soaps to board games to all the items a well-stocked camp kitchen could need.
And if the family's too big to fit in the camper, Calico Critters makes a separate Let's Go Camping tent set for ever. Adorable!
The big camper connects to the Calico Critters Convertible Coupe for road trips, and the whole set is just great for hours of imaginative play.  And role playing.  Make the critters skitter inside before they get devoured by mosquitoes.  And tell stories in their bunks.  And eat smores.
Summertime camping here we come!