This post originally appeared on my new site, Catybean.com–a site for girls who read, play and dress up, and the Mamas who love them! Check it out!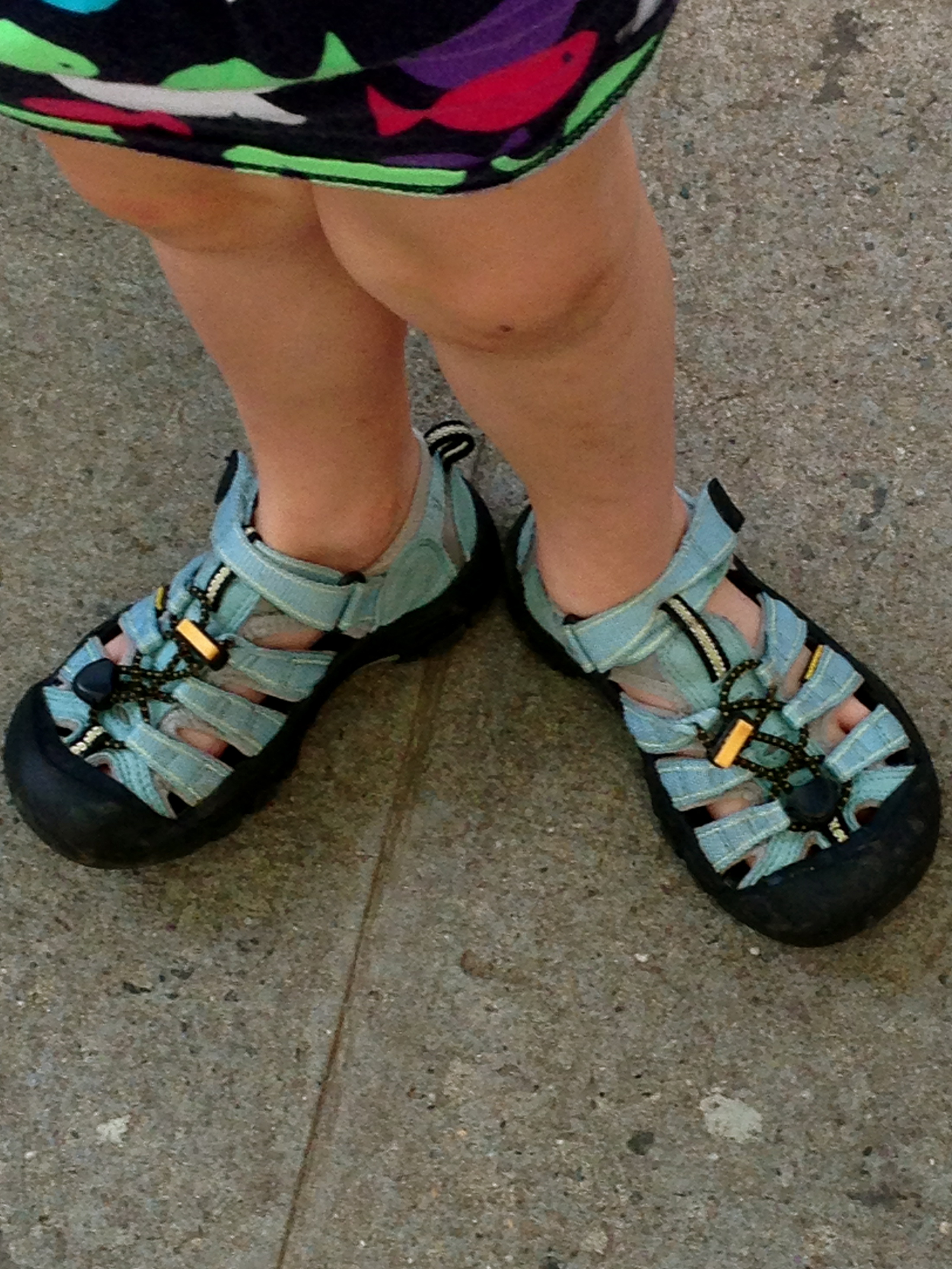 I refused to wear sandals for years.  As a teen I became convinced that my feet were hideous and should be hidden from the general public for fear the sight of the space between my toes would cause apoplexy.  And then I guess I came to the realization that really my weird toes were the least of my problems, and it was nice to have cool feet in the summer.  And somewhere around that time they invented Tevas and Keens and this tomboy jumped all over that sport sandal trend.
I am pretty certain that Keens are miracle shoes.  We've been passed down Keens for Cate in every color and almost every size.  They go from boat to beach, from mud puddle to spray park–and then you wash them and throw them in the dryer…and they look better than the day you were handed them down.  (I want whatever is in Keens to slather all over my face.)
The same cannot be said, however, for the feet which inhabit those sandals.
You know what I can't stand?  Going to bed with dirty feet.  I have been known, on a dusty summer night, to sit on the side of the tub and indulge in a foot washing.  Too lazy to bathe my entire body.  Entirely refreshed by the simple act of cleansing the tootsies.
But sometimes, when tiny toes have been splashing in the somewhat stagnant puddles of a New York City Sprinkler (don't think about it, don't think about it, don't think about it) it's prudent to wash those feet before entering the apartment.  Or even before leaving the park if you think there's a chance those toes will end up in the mouth two blocks from home.  Because I am committed to the idea that girls should get dirty in the park.  And I am equally committed to the idea of cleaning up afterward.  And for that purpose, I was so very excited to try out the new Fresh Feet Wipes for Kids (and grown ups) by Jasmine Seven.
We were sent the Fresh Feet Wipes for Kids and Fresh Feet Wipes for Grown Ups to try out, and we are in foot pampering heaven.  For Mamas, the adult Fresh Feet wipes are durable, soft and peppermint scented.  They are antibacterial, alcohol free, 99% natural, made with aloe and vitamin E, and so refreshing.  I absolutely love them.  The Wipes for Kids can be used for feet and hands and are grapefruit scented.  Like the grown-up version they are natural and free of all those nasty chemicals and incredibly soft, smooth and durable.  So much more suited for the job than regular old baby wipes.  Bean says they smell "delicious" and feel "great."
So girls (and boys), get out there and splash in those puddles this summer.  Wear your sandals in the mud.  Spend long days barefoot in the sand, knowing you can quickly, easily and refreshingly clean those feet before you fall asleep with the windows open.  And that's kind of what summer's all about…don't you think?
Thanks to the folks at Fresh Feet Wipes for sending us a sample to try. You can find Fresh Feet Wipes on their website, at Walmart or online at our affiliate Amazon.com.